l
ast sunday, i was at the kedai akuarium yg besar tu kat sebelah wet world shah alam on my mission to buy more and more anak-anak ikan (nak memenuhkan akuarium ku yg cantik itu - video will be uploaded soon - cantik ker?) and to buy new couple for my blue fresh water lobster yang kematian pasangannya tiga hari lepas (aku tak tau which is betina or jantan).
there at the kedai, i found the lobster at reasonable price with reasonable size (agak besar la jugak berbanding the one at home). because i didnt know which one is male or female, i asked the worker to choose it for me. he said, the one with straight tail is male and the rolled tail is female. so he caught two lovely couple of that lobster. me being a very cerewet and persis customer from hell which most shops would definitely love me not going to their premises take a peek at the worker's catch. i see two similar lobsters with both of their tail rolled! "haiiyaaaaa...ini lua lua betina lah. u tell me tadi lain!!!!! macamana nih????" i spoke to the worker politely (bole caya ker?)
"lu pilih la sendili" said the worker to me politely too. so with my bionic eyes, i did pick one straight tail and one rolled tail. back at home, kebabommmmm!!!! the old resident lobster died!! i'm lucky i bought two lobsters, so with lot of space for my new lobsters, and with a smile i put them in the aquarium.
tetiba (suddenly)......kebabooommmmmmmm...i see both of them rolled their tails together and within few minutes later both of them straighten their tails. apakah? i should never trust any kind of lobsters and crustacean period!. i should learn my lesson! this things happened to my friend
diyana
too. u can check her post on that keji lobster too! damn u lobster!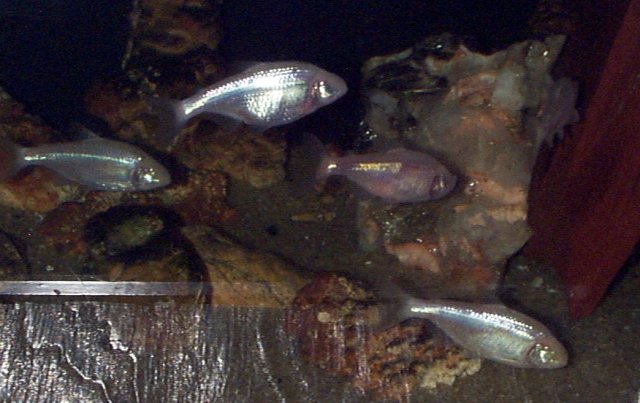 on the other hand, i'm a proud owner of this blind cave tetras. i got four of them. one already died due to excessive feeding. bukan salah aku yg bagi dia makan. dia yg tak reti makan secara berhemah.